11 august 2021
Solemn swearing-in ceremony of the recruits in the RA NSS Border Guard Troops (video, photos)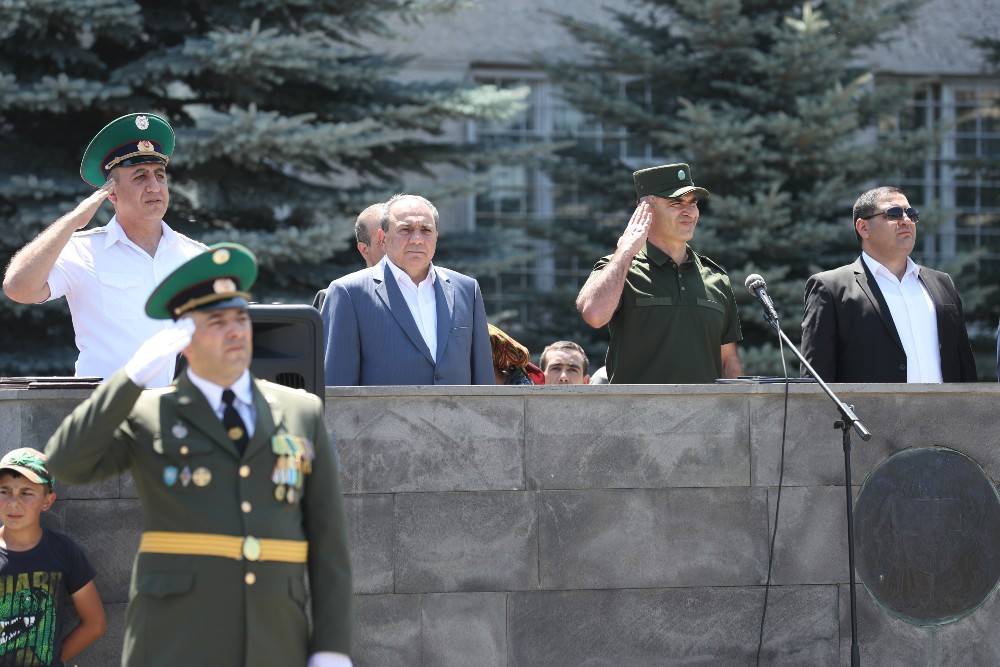 A solemn swearing-in ceremony of the recruits took place in the N military unit of the RA NSS Border Guard Troops. The RA NSS Deputy Director, Major General Aram Hakobyan, Commander of the Border Guard Troops, Colonel Arman Maralchyan, 1st Deputy Commander-head of staff, Colonel Arman Gasparyan, Chairman of Veterans Union of Border Guard Troops, Hovsep Karapetyan and the representatives of the RA NSS regional subdivisions were present at the event.
The solemn ceremony started with the sounds of the RA anthem, a minute of silence announced by the Commander, in memory of border guards who forever glorified the Homeland.
A solemn parade was held during the ceremony, the recruits sang the anthem of the RA NSS Border Guard Troops.
The main ceremonial part of the symbolic event was the solemn swearing-in ceremony. The recruits read the text of the military oath and signed it in accordance with the established procedure. Highly appreciating the patriotic mission of the Armed Forces in the defense of the Homeland, the recruits assured that they had come to continue the sacred work of the older generation and are ready to defend the Homeland at all costs. They took oath before their commanders and parents to serve with full devotion and pride, to take orders from their superiors.
Senior military officials and relatives of the recruits made speeches during the solemn ceremony.
The Commander of the RA NSS Border Guard Troops, Colonel Arman Maralchyan, congratulating the recruits on the memorable day, wished them peaceful and safe service and instructed to strictly obey the security rules.
"Dear recruits, today is one of the most important days of your life, because you swore to continue the noble work of our heroes with honor. At the same time, I want to assure you that during these two years, your sons will be under our care, will wear the uniform of Border Guard Troops with honor and pride."
The commander expressed a wish that their sons, fulfilling their duty for two years, will return their homes and build the Homeland security.
At the end of the ceremony, the representatives of Border Guard Troops had a meeting with the recruits and their parents.